CERTIFICATIONS
The continuous pursuit of customer satisfaction and the desire to be on the cutting edge have always characterised our work and is still the foundation on which we are building, day after day, that image of reliability and professionalism which sets us apart.

This "style" is now our company policy, a process that began in 2010, when ITALIAN PROPELLERS was completely taken over by the Belotti family, who strongly wanted to improve the quality of its products and the efficiency of the services offered.

Today we are pleased to inform all our customers that we have obtained from R.I.N.A. (Italian Naval Register) the certification of our Quality Management System in accordance with the UNI EN ISO 9001:2015 standard.

Furthermore, for our most demanding customers, we have developed a quality control system that, with the help of specially developed software, allows us to monitor the classification of our Propellers in accordance with the ISO 484/2 standard.

Therefore, if requested, ITALIAN PROPELLERS can deliver their Propellers accompanied by a certificate declaring that they are finished to the standards of "Class S".
CERTIFIED QUALITY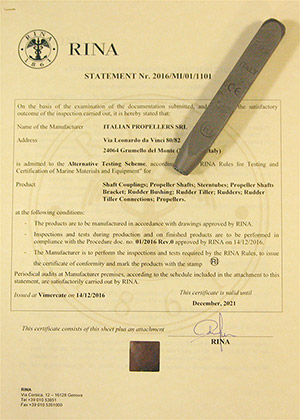 The historic Italian Enterprise specialised in the production of propellers and drive systems is awarded the Total Alternative Testing Scheme Certificate and continues its pursuit to achieve perfection with RINA certification.

The aforementioned certification enables the production of sea vessel parts subject to RINA testing and inspection. The advantage obtained generates increased production speed, as part of the work that should be performed by the BODY is assigned to ITALIAN PROPELLERS.

We remind you that the company ITALIAN PROPELLERS produces in addition to Propellers, also Rudders, Propeller shafts, Brackets, Coupling flanges, Rudder Tillers, Rudder Tiller Connections and Bushing, Sterntubes.

The Certification is extremely relevant given that the majority of water vessels that require such homologation are Superyachts and work boats, a market that, despite the current crisis, is fairing pretty well. The Company from Bergamo collaborates with the most important Shipbuilders both in Italy and abroad.


ITALIAN PROPELLERS Total Alternative Final Testing Certificate statement no. 2016/MI/01/1101 is a certificate that confirms the exceptionally high qualitative and professional level of Made in Italy achieved by the Company owned by the brothers Claudio and Marco Belotti and their father Celestino.

The certificate was awarded after many years of extreme professionalism and enormous passion, in complete compliance of all laws and regulations. Italian Propellers has reached the important goal that is also a meaningful Declaration of confidence issued by RINA.

Another important recognition gained by the Belotti brothers and further warranty for their customers.